Reading time: 18 minutes
This post may contain affiliate links. If you click these links and purchase something we may earn a commission. This helps us provide the information here free of charge to you. Read More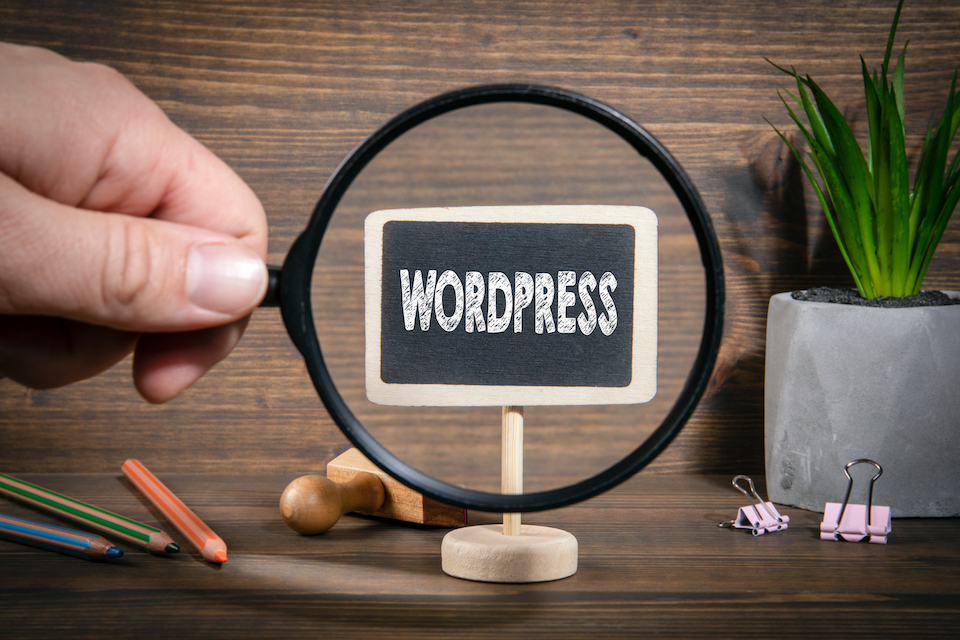 The blogging industry is constantly growing, and now is an excellent opportunity to get your own blog started so it can grow and eventually earn you income.
Whether you've got loads of experience with computers, or can barely check your email, I can assure you that starting a blog is not a complicated task! Seriously, it's not that hard!
I'm going to take you through every step of the process — from finding your blog's niche or industry to setting up hosting and wordpress, all the way down to customizing your blog and starting an email list!
Beginners Guide To Starting A Blog In One Hour! Okay, you can't start creating your blog if you don't have a clear picture of what kind of content it's going to have. This is where a productive brainstorming session comes in handy, but don't worry it won't be as difficult as you think.
If you are worried about which style of topic will bring in the most money, let me first tell you that there is potential to make money with any topic you decide on. The deciding factor that will allow your blog to produce real time income, is the amount of work and dedication you put into creating a blog that readers will be engaged with and want to keep reading.
This is why I'm telling you not to focus too much on the topic of your blog. While yes, your niche will bring a certain type of visitor to your site, you need to pick something that you are passionate about.
A blog is essentially a long conversation with you and your audience, so as long as you pick something you are well versed and passionate about, you should be just fine.
I want to point out that you might not figure out your perfect niche until you simply start writing.
There is room in the beginning of your blogging career that allows for some creative flexibility where you can figure out the exact topic you want your blog to be focused on.
Here are some general blog topics that can be profitable. If there are two that speak to your blogging soul, think about combining them to create a completely specific and creative blog (ex: combine parenting and finance or cooking and travel)
Travel (in your state, country, the world)
Parenting (pregnancy, moms to be, fertility, even becoming a soccer mom)
DIY/ Crafts (scrapbooking, photography, really any kind of art)
Cooking (healthy cooking, cooking for a particular diet)
Health (fitness, healthy eating, etc.)
Finance (banking, investing, budgeting)
Relationships (long distance, heartbreak, dating as an adult)
As you can probably tell, the options are limitless. I just rattled off 7 different niche categories that have the potential for high profits. What's the most important takeaway from this, is no matter the topic, if you can write about it, you can succeed.
Just try not to get too broad of a topic. Broad topics have much higher competition and take a little bit more work to get off the ground — that might not be fun to many newbie bloggers.
Extra Tip: The more specified and 'niched down' your blog will be, the bigger opportunity for not only a deeper connection with your audience, but also the opportunity for an incredibly dedicated and loyal audience.
buy Pregabalin 300 mg cheap How To Build A Blog? Beginners Guide To Starting A Blog In One Hour
Okay, before you start to get overwhelmed, let me say that there are only three aspects you will need to focus on to start building your blog:
Blogging Platform
Hosting (we've even found the cheapest wordpress hosting provider!)
Your Domain Name
That's all it takes. Of course there may be some research required to pick the best options for you and your new blog in each of these categories, but I've done the hard work for you and created a guide that will help you navigate these unknown waters.
Dráma Your blogging platform: Welcome to the creative process of designing your blog. First thing you will need to do is decide on a blogging platform. What is a blogging platform? It's simply the place that you will make your design edits as well as write your new blog posts – so it's safe to say this is a pretty important aspect of blogging.
What exactly is a blogging platform?
Every website out there is composed of lines of written code that will work together to create and build the appearance of your website. If you are looking to create a website completely from scratch, you will have to know not only how to write code, but what each aspect of each individual line of code means.
This can be really intimidating, especially if you are just starting out, but there are platforms out there that make this super simple for users. Choosing to use a blogging platform takes the headache out of setting up your website. A good platform will come with pre-coded templates that you simply install and can further customize through their sites. I recommend starting with WordPress, and here's why:
Since WordPress is the most widely used blogging platform, it has the most customization and feature options available that can set your blog apart from the millions of blogs already online.

34% Of The Top 100,000 Websites In The World Are Powered By WordPress
Customer support is another important aspect you will need to consider when choosing your blogging platform. WordPress has an amazing community of personal and professional bloggers ready to help you solve any issue you can think of!
As your blog grows, you will need to integrate it with other software, and WordPress makes this extremely simple. So many third-party apps, services, and plugins will integrate with WordPress so easily.
WordPress is 100% FREE! Even the best web hosting you can find is fairly inexpensive. We've got our web hosting recommendations below.
The bottom line: WordPress is going to be any new blogger's best friend!
Due to the powerful backend and seemingly unlimited customization options, WordPress is where 95% of bloggers start! Meanwhile, the other 5% simply don't know what they're missing out on! It's a powerful piece of software that can handle virtually unlimited amounts of content and website or blog visitors!
Blog Hosting
Your blog or website will have to be hosted by a server. So your website can be accessed online by users all over the globe. Blogging platforms out there offer free hosting plans and paid packages that will provide you with even more options. Ans, also self-hosting plans for your blog in particular.
Blog hosting should not cost you tons of money!
An amazing hosting company that literally specializes in WordPress hosting for a few bucks per month is all you need. I go into detail a little bit more about BlueHost a little further down:
Why would you pay for hosting when there are free options available?
This is a completely valid question. But here are some of the reasons that may help you see why it can be more beneficial for you and your blog to go ahead and make that purchase from the start.
If you are looking for your blog to simply be a hobby that you post to during your free time, and don't care about templates or customizations, then you may be satisfied with a free hosting site. However, if you want your blog to be the best that it can be. Make some money on the side, and maybe even make some serious income, just shell out a few bucks for the hosting.
Free blog sites that offer free hosting will come with many limitations. These can include the fact that they will likely plaster their ads on your blog. They're going to literally be making money off of your content and your visitors.
The biggest limitation out there when you go the free hosting route is how it will absolutely affect you and the ability to monetize your website. If you are wanting to make legit money through your blog, you should just skip the free options, and pay for hosting.
If you spend money on one aspect of your new blog, I recommend you spend it to get a good blog hosting plan. It's probably the best investment you can make for your blog!
Beginners Guide To Starting A Blog In One Hour! So what hosting website should you use?

My number 1 recommendation for bloggers starting out is Bluehost.
What makes Bluehost the best option to host your new blog? I'm glad you asked! Here are the top reasons why going with Bluehost will save you headaches and money in the long run while your blog is gaining in popularity and success:
The goal of your blog should be to attract the most amount of traffic as possible. And this can cause problems with certain hosting providers.
Bluehost can handle any potential traffic and keep your website from crashing when it starts to gain traction. Unlike other hosting companies, Bluehost will not charge you extra to upgrade. Because when you purchase Bluehost you will get everything you need from the beginning.
It is a super affordable option, especially for beginners. Their WordPress specific hosting is only a few dollars a month and they offer a full 30-day money-back guarantee. You can even choose to pay for a couple of years in advance to maximize your savings! Starting your blog that can lead to your new source of income is an investment you should take.
Bluehost is incredibly simple to get your blog up and running. If this is your first time creating a blog or website it can be overwhelming to know where to start. Bluehost makes everything super simple.
Customer support is also a big selling point for Bluehost. Because you will undoubtedly have questions and need help along the way (especially in the beginning). The blogging world can be difficult to navigate if you are just starting out. This is why a hosting company that puts emphasis on supporting their customers is so important.
There are unlimited options for domain names, blogs, and email addresses!
Depending on if you go with the basic plan or upgrade to additional plans Bluehost has you covered. You can even create your own completely customized email addresses for your blog. This is an option that isn't really offered with other hosting companies.
Get Started With Bluehost's WordPress Friendly Web Hosting Today!
What's great about WordPress and Bluehost, is they can be used together with the ease of one click. If you sign up for Bluehost through my affiliate link you can pay as low as a few dollars each month. Also, you can install WordPress on your blog with extreme ease and simplicity.
Scroll Down To See Our Step-By-Step Guide For Installing WordPress!
Your Domain Name Comes Before Starting A Blog
The last extremely important part of setting up your new blog is your domain name. What this is, is essentially the personalized identity of your website and way for customers to find your blog. A simple rule of thumb to follow is: the domain is the name of your website, your URL is how your customers will find your website, and the actual website is where your blog content will be posted.
How much will your domain name cost?
There are a few different options out there, ranging in price, security, and style.
Domain
If you decide to go with a free hosting platform then you will have to purchase a domain name separately. Websites like NameCheap or GoDaddy allow you to search through available domain names that you can purchase for the year. If you have a really popular niche for your blog you may have to get creative with your domain name. Depending on what you decide with, your annual charges for a domain can range into some pretty hefty charges.
Domain Name
No true domain name can look fishy and unreliable to potential readers and customers. Let's do a quick experiment to prove my point. Which domain name would you rather click on fastmoneynow.blogspot.com or fastmoneynow.com?

The majority of people will see the second option as a more legitimate website to get information from. This is a prime example of why it's important to have a true domain name for your blog!
Free domain names through many hosting companies are offered when you purchase a plan. Remember how I mentioned you should invest in your hosting platform? That is because hosting companies like Bluehost. It will give you your domain name for free, as it's included in the overall price. (You can even have multiple domain names as you grow your blogging portfolio when you purchase Bluehost)
BlueHost is offering ItsSuzyDarlen.com readers a FREE domain name when you purchase their $3.95/mo WordPress web hosting package!
Here's how to get your free domain name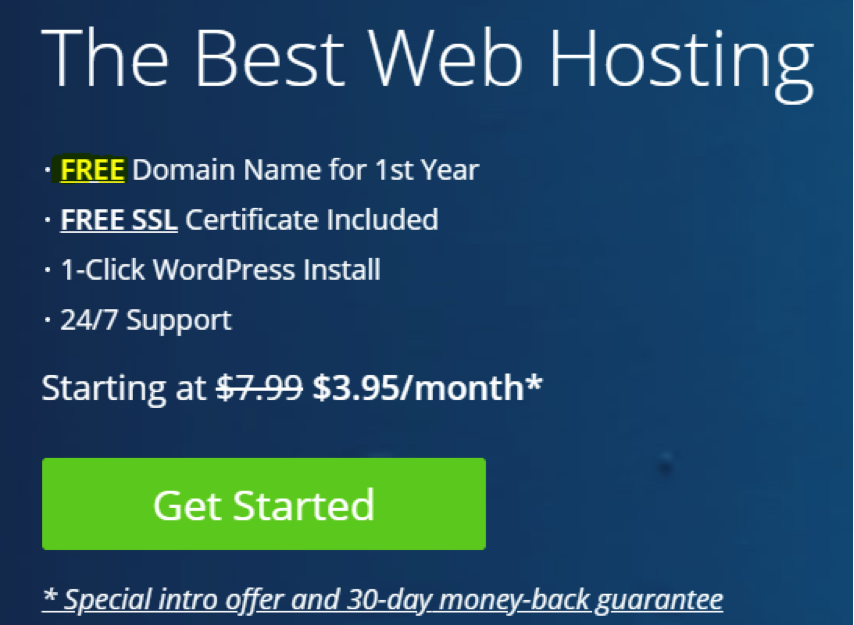 1. Click the green Get Started image above or click here to go to Bluehost
2. Bluehost will ask you which domain name you would like. For the sake of demonstration I tried the test domain: MyNewBlogWebsite.com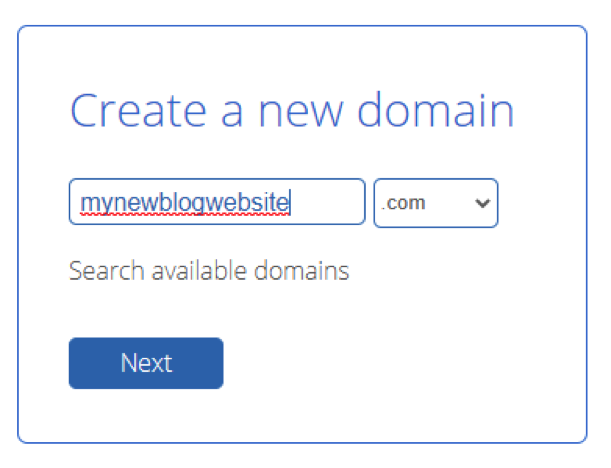 3. If your desired domain name is available, you will see this status message: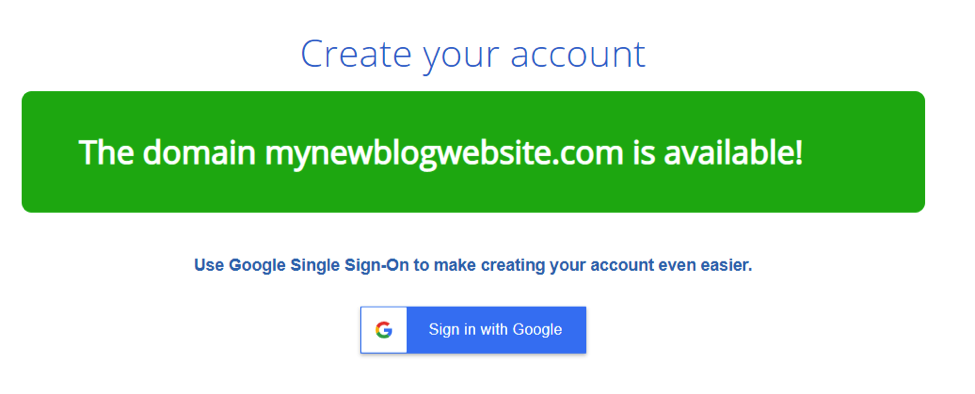 4. Finish signing up and at the checkout screen, check to confirm your domain is free of charge by looking at the items summary:

How To Install WordPress
Almost every single web hosting provider out there now has a way for you to install WordPress in just a few clicks or less. Typically they have a list of apps listed in their Marketplace, Mojo, Softalicious, or One-Click Install section.
Here's how to install WordPress for Bluehost, but these instructions will work for any of the other top web hosting companies or WordPress hosting companies out there:
1. Log into the cpanel of your web hosting company. Different web host providers will have different ways to access your cpanel. It should be in the welcome email they've sent you.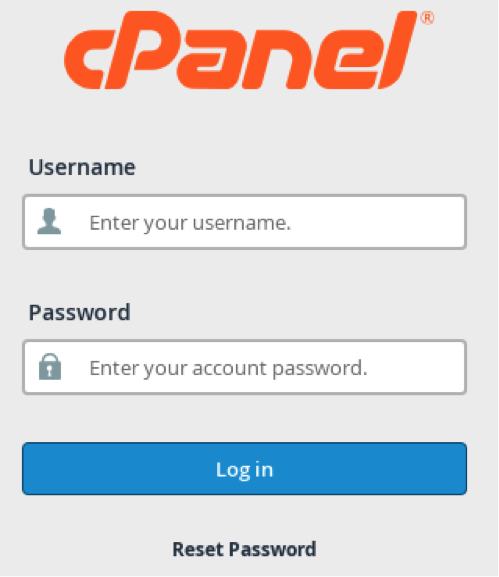 2. Find the WordPress install section. BlueHost will have it listed under 'Websites' and they also have it listed under 'Marketplace' Other hosting providers may have it under Softalicious or Mojo Marketplace.

3. Tell your hosting company which domain name you want to install WordPress on. This is also where you can specify a directory. Ex: yourdomain.com or yourdomain.com/blog

Your web hosting provider's WordPress installation may also look like this: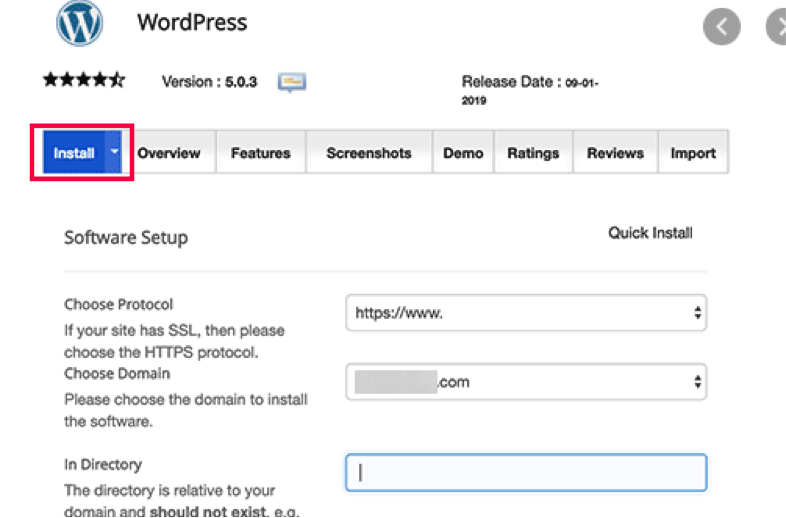 4. After deciding on an administrator password, you will be taken to your WordPress dashboard where you can now begin the fun!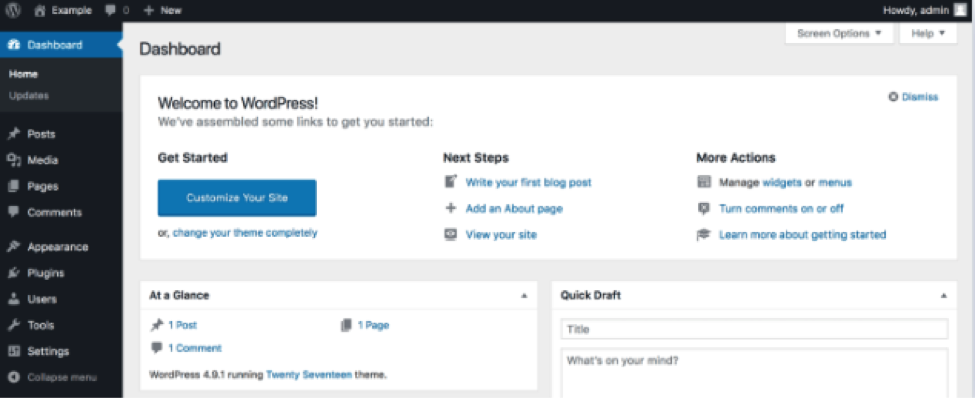 How To Personalize your Blog
After reviewing this beginner's guide to starting Aa blog In one hour you can now personalize your blog. Personalizing your blog will let you both decide on the way it looks and decide on the features that it has.
WordPress Themes
These are pre-designed layouts that you can use as a nice base for your new blog's design. There are a ton of free themes available for you to install right there from your WordPress admin dashboard. Using the appearance menu at the left, navigate over to themes: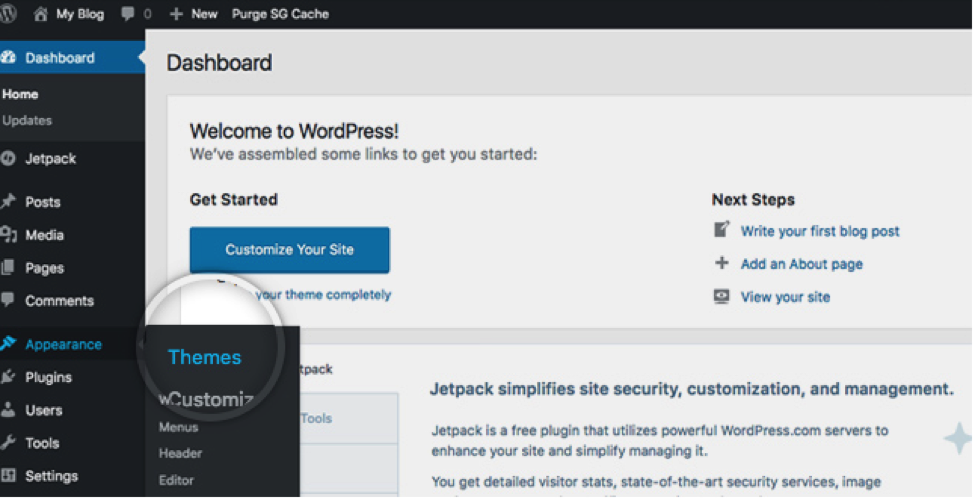 From here you can click on Add New at the top of the page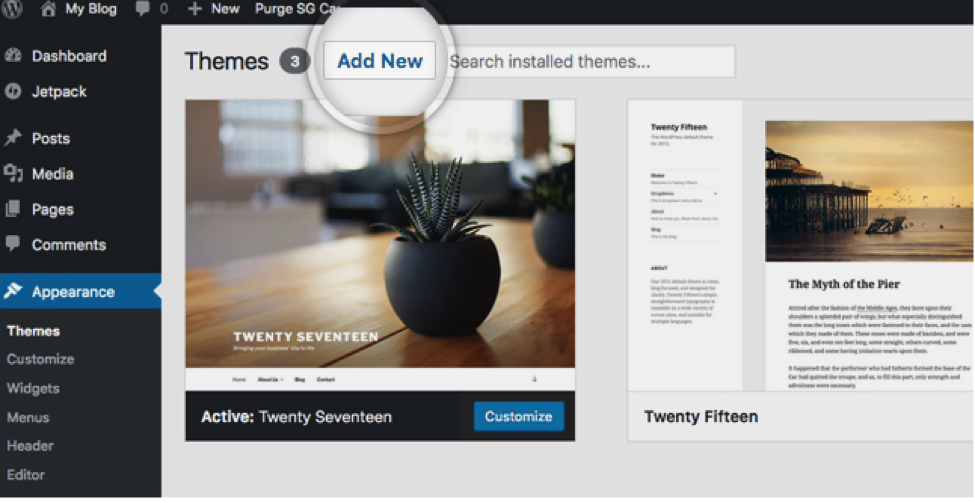 Now you can browse and search for themes until you find one that fits the personality that you want your blog to have. Now, just like with web hosting, sometimes it can be better to shell out a little bit of money.
Where do I think all of my fellow ladies should get their themes from? Both of the following suggestions, Bluchic and Beautiful Dawn Designs offers lifetime WordPressThemes updates.
Feminine WordPress Themes starting at $79 you will find Themes and ability to add 'a la carte' services such as Landing Page, Social Canvas Templates and much more for an additional cost
It has an amazing selection of feminine WordPress Themes for just $45. These themes will truly make your new blog stand out from the rest out there!
Easily build websites with WordPress, which is required for some Word Press themes. Genesis Framework is a very responsive, SEO-friendly and secure framework. The cost is a one-time purchase fee of $59.95.
While Starting A Blog Don't Ignore WordPress Plugins
The other main way to customize your site is with plugins. From the WordPress admin dashboard, go to the menu on the left and click Plugins. You will be able to browse popular plugins and search for any other features you may desire for your new blog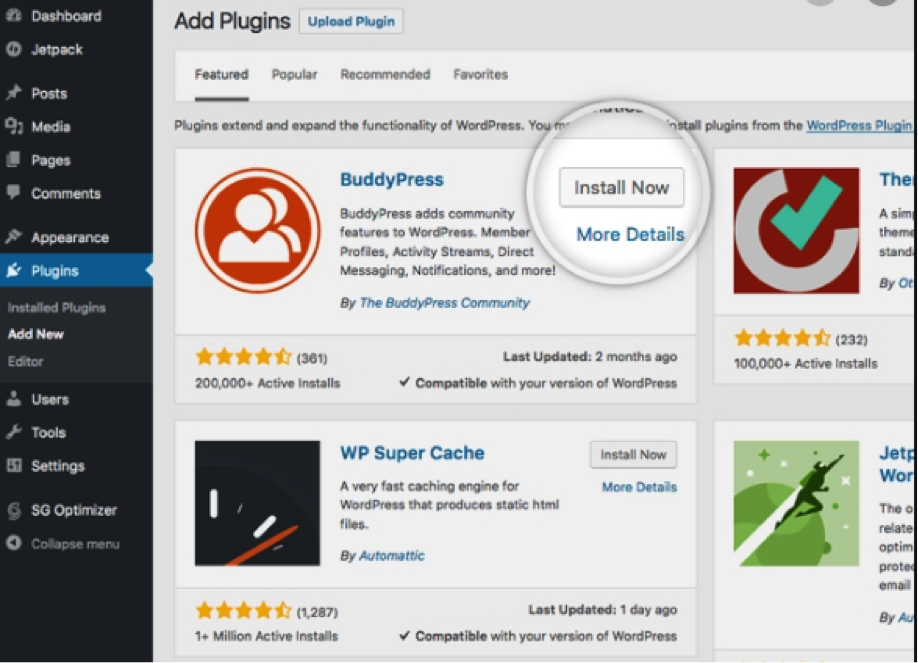 After finding any plugins you want to set up, simply click on the Install Now button to get up and running. Here are some WordPress plugins that I think everybody should consider installing:
Yoast SEO
While starting a blog a great plugin that will guarantee your blog is up to par with Google's best SEO practices and standards. SEO is one of the hardest aspects of blogging to learn and this free plugin takes the guesswork out of the whole process.
WP Super Cache
Page load speed is a big deal to Google rankings and to your readers. A great way to speed your blog up is by taking advantage of caching while starting a blog.
WP Forms
Every blog or website will need some kind of form for their users to interact with. This may be a contact form, a subscription form, or even some kind of poll or voting form. This plugin makes it super easy to create a form for any need.
OptinMonster
Part of building a successful and profitable blog involves creating a mailing list. OptinMonster is the best way to convert bounced and abandoned visitors into email subscribers and even paying customers, should your blog or website sell any products or services.
WooCommerce
For those of you that are selling products or services, WooCommerce is a plugin that will let you create your own storefront and sell anything you so desired. You will also be able to accept credit cards and other forms of payment, like PayPal or Bitcoin, all from your freshly installed WordPress blog!
Starting a Blog Email's Marketing For Your Blog
Multiple times throughout this blog installation guide we have talked about creating an email list. This is something that every single blogger out there needs to be doing. An email list is a great way to ensure recurring visitors and it's a great way to market products to your loyal readers.
Setting up your own email list for your blog will need an article entirely on its own, but here are some quick tips to get you started:
Give your readers a reason to subscribe. Offer them some kind of free product or service. For example, signing up to my email list will get you access to 16 printable to start your financial binder.
Don't spam your subscribers. Only send emails out to your list whenever you're providing important updates or recommending a product that you truly believe will help them out.
You can use a service like Mailerlite to start your email list. Sign up through this link and you can get your first 1000 subscribers for free.
Starting a Blog In One Hour! Making Money from Blogging
Starting a blog is not going to be some kind of get-rich-quick scheme. It takes a lot of hard work and dedication. That's why it's important to start a blog in a niche that you're passionate about. If you start blogging solely for the money then you will easily get burnt out very quickly.