Reading time: 8 minutes
This post may contain affiliate links. If you click these links and purchase something we may earn a commission. This helps us provide the information here free of charge to you. Read More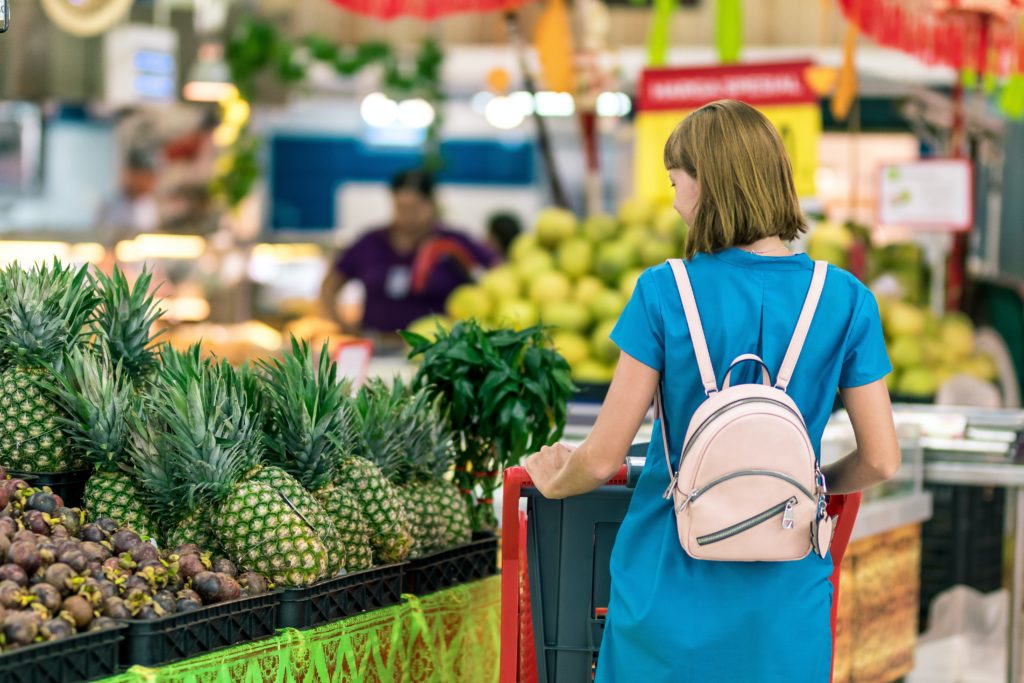 We all shop. It doesn't matter if you're rich, broke, young, old, happy, sad, whatever.. We all have to shop and we all need to buy stuff. But did you know that you can literally get paid to buy groceries? Did you know that you can get paid to shop on Amazon or Ebay?
There are multiple cash-back shopping services, apps, and providers that pay you for shopping at places you're likely already spending money at. Some of these services even pay you for what you buy in person at the store.
I've created the ultimate guide to help you understand how in the world this all works, and to share with you the best ways that you can literally get paid money for spending money. Money you were already going to spend anyways!
How Does Cash-Back Shopping Work?
Many of these services operate in one of three ways (or a combination):
Cash-Back Shopping – Shop Online At Approved Store
One of the more common methods with many of the industry giants is to, before you buy something online, check their merchant directory. If the place you're about to shop at (Amazon, Ebay, walmart.com, etc..) is listed, you use a special link they give you to make your purchases through.
Find Specific Products
Another way is to search for the specific products that you're about to buy using the cash-back program's app or website. If they have special cash-back deals on these items, you buy them through their merchant portal or through special links.
In-Store Shopping
Using this option means you don't have to make purchases online through an app or website. You can usually upload a picture of your receipt, or link your in-store rewards account through the app.
How Do Cash-Back Shopping Services Pay You?
As you go through the cash-back shopping process with these services, you can log into the app or website to see how much money you've accumulated. But how do you go about actually getting the money?
Well, that depends on which service you're using. Some will send you a quarterly check, some will pay via PayPal, a bank transfer may be an option for one, while Amazon gift cards might be the preferred payout method for others.

Where Does The Money Come From?
Just about every single website that sells something online will share a percentage of their sales with companies who send customers in their direction. There are cash-back shopping apps and services that share this commission with you!
Because these cash-back shopping companies are so large and can refer so many sales, they often work out special deals with each of their retailers.
But how do you know which cash-back shopping companies are legit?
Well, I've tested a few of them out and have made a list of the best companies that you should have in your arsenal. So sit back and see which one(s) are your favorite!
I want to start off with one of my personal favorites. Ibotta has got a network of 300 merchants and these are some of the most shopped-at stores out there. WalMart, Target, Albertsons, Safeway, Kroger, Fred Meyers, etc..
They also give you cash back for in-store shopping! So you can buy through the app or you can go to the store, pay cash, and use your phone to scan in your receipt.
I also like Ibotta because I can link my Target rewards account up automatically. So anytime I shop at Target I don't even need to scan in my receipt, it's synced up automatically!

And my second personal favorite is SwagBucks. These guys have been helping people make extra money online for years now and have given away well over half a billion dollars. Billion, with a B!
They've got an amazing cash-back shopping program that has thousands of merchants to shop from. Because their program is geared towards online-only shopping, they are able to cast a much wider net.
You also don't need to buy physical, tangible items with their program. You can book a vacation or apply for a credit card and still get paid. Their network is so big too, from BestBuy to Hotels.com
One reason that makes them unique is that they will often have various coupon codes and discounts that are only available to Swagbucks members. So when you mix these discounts with cash-back shopping you've got yourself some amazing extra cash!
3. Rakuten
One of the oldest players in the game is Rakuten formerly known as eBates. They are essentially the original cash-back shopping service.
Because Rakuten has been around for so long, they've cultivated some amazing relationships with A LOT of different merchants out there. In fact, they've got over 4,500 different companies in their network!
Rakuten even has this cool browser extension you put on your computer. Anytime you're on a website that's a part of the Rakuten network, you get a little notification letting you know how much cash you will get back from shopping with that particular merchant.
4. WikiBuy
You might think that any possible cash-back shopping feature would have been covered with the three industry giants above, but you're wrong. There are still some unique options left.
Next up on our list is WikiBuy. Now, on the surface they may seem like your average cash-back shopping service that seems no different from the rest, but you would be wrong to assume that.
WikiBuy has got two prominent features that make them unique from the other services above:
Local Merchants
WikiBuy seeks out local merchants in your area to add to their network that local crafts shop around the corner might be in the network. And that taco stand down the street might be there too. How much cash back are you missing out on from your favorite local hot spots?


Item-Specific Shopping
Looking for a specific item? See if it's listed in WikiBuy first. Rather than looking for a specific store or merchant, you can seek out cash-back deals on individual items. It's amazing for larger purchases like that new printer you've been needing, or even a new fridge or sofa.
Last on our list is the cash-back powerhouse known as BeFrugal. They have got a whopping 5,000 merchants in their network with cash-back deals as high as 40%
I like these guys because they claim to have the highest cash-back payout rates across the industry, guaranteed. Their network includes very big merchants like Amazon, Ebay, WalMart, Macy's, Home Depot, Best Buy, and TONS more!
What's really cool about them is that they have super fast payouts via Venmo, PayPal, Direct Deposit, or they'll even mail you a check or a gift card should you so desire. You definitely want to consider them anytime you're about to buy something from a big-name retailer.
Which Cash-Back Shopping Service Is Best?
Because each of these services offer something a little more unique than the others, it's a good idea honestly to just start by using all of them. They're all fantastic. Over time you may find yourself using one more than the others and can narrow it down from there.
If you only decide to go with one or two of the above companies, try and narrow down you decisions based on:
Cash-Back Shopping Payout Frequency
You should check out the different payout periods and terms that each of these services offer to see what falls in line with what you're looking for. Do you need fast money? Or can you afford to wait a little while if the payout is higher?
Cash-Back Shopping Payout Methods
All of the companies above pay out using different methods, so be sure to look and see which works best with your desired payout method. Some people want a direct deposit, while others would rather a check or a gift card. Some may only want Venmo
Payout Threshold
Some of these cash-back shopping companies may want you to accumulate a certain dollar amount before you're able to cash out. Or they may make you wait a period of time (a week, a month, etc..) before you can take your earnings out.
Payout Qualifications
The final thing you should keep an eye out for are the payout qualifications. There are some items or departments that may be excluded or may have various restrictions attached to them. Make sure you thoroughly research this, especially if you're considering making a big purchase using a cash-back shopping service.
Before we end this I want to leave you with one more piece of advice about cash-back shopping services: NEVER pay any membership fees to join any cash-back shopping service. These are FREE to join and FREE to use. If you ever come across one that charges a membership fee then it is like a scam.